10 Creative Gifts For Metal Detecting
10 Creative Gifts For Metal Detecting
Do you know somebody that is  an avid metal detector enthusiast?  Trying to think of a creative gift idea but afraid they already have all of the gear they need?  It is time to start thinking about great gifts that will wow the recipient.  We have compiled a list of great gift ideas that make excellent presents and stocking stuffers for the treasure hunter in your life.  Click on any of the links or images below to get even more gift ideas!
Check out these hot metal detector bundle deals!
Metal Detecting Stocking Stuffers:
A battery tester is an excellent stocking stuffer idea for anyone who may be using a metal detector requiring batteries.  A growing number of metal detectors have internal batteries.  However, many of the popular brands like Garrett Metal Detectors and Fisher use traditional batteries.  Having a battery tester in your gear pouch can be very useful to ensure you are using batteries that have plenty of power, which is essential for the best detecting results.  
This handy battery tester can be used for testing AAA, AA,C, D, 9V, & Button Cell Batteries.  This battery tester is very easy to use and does not require batteries to operate.
Metal detecting quite often means getting off the beaten path to find good places to hunt for treasure.  Depending on where you are located, this may mean traipsing around in snake territory.  Protecting your lower extremities is a good idea not only for snakes, but also from thorns, briars, and cactus.
The company also makes a pair of guards with knee pads that are perfect for metal detecting.  Snake Guardz are the original ultra-lightweight snake gaiter with metatarsal protection, featuring a unique design which allows air circulation between the leg of the wearer and the leg protectant. 
3. Pocket Microscope - $26.95
Metal detectorists often dig up things that need closer examination.  A magnifying glass is handy but a lighted pocket microscope is a game changer when it comes to analyzing finds real close up.  
A precision illuminated pocket microscope with variable 60 to 100 times magnification is a perfect stocking stuffer for a metal detectorist. Focus is adjusted adjusted by turning the wheel and the retractable condenser lens pinpoints the light on the object. Plus it comes with a nice little protective carry case so it can be stored right along with your detecting gear.. Light-Scope is 5 1/2 inches long, 2 inches high and 7/8 of an inch deep. 
Metal detectorists love displaying their finds for all the world to see.  There are several different products out there for doing this.  Some are made for coins and some for gold nuggets.  They come in all shapes and sizes and are relatively inexpensive.  
Display cases not only allow you to display finds in an attractive way, they also help preserve the items and protect them from damage.  The display case above is a 2-way display is perfect for showing off your best finds.  They are great for rocks, relics, minerals, coins, stamps, or any other treasures you'd like to display. The strong Clear film allows object to stay snug in position and allows for both front and back visual inspection.
There are tools that are specifically made for cleaning coins and relics that allow you to remove dirt and corrosion without damaging the item.  The set of relic cleaning pencils shown in the image below come with a fine wire brush head, fiberglass, carbon fiber, and brass tips to minimize damage to precious finds.
Renaissance wax is a microcrystalline wax polish made specifically for preserving coins and relics.  It is a great way to protect finds from further corrosion once the items are cleaned.  For over forty years, Renaissance Wax has been the No. 1 choice of museums for the preservation of precious items including swords and other edged weapons. Professional conservators throughout the world depend on Renaissance Wax to protect their collections. Properly applied, a little goes a long way.
There are hoards of books that will intrigue any treasure hunter.  How to guides, historic atlases, and history books are just a few of the subjects you can purchase books on for an avid metal detectorist.  Depending on specific interest or geographic location, you can dial in on the perfect book for just about anyone.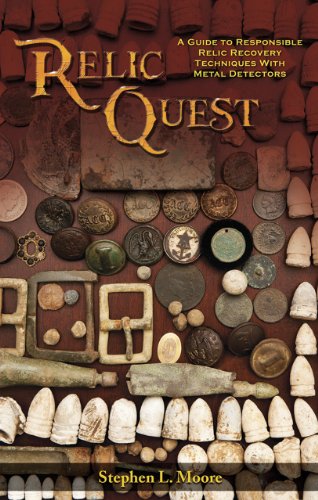 Maps showing historic gold towns, proven gold fields, and details about historic treasure can also be found.  You can go quite a way down the rabbit hole with our broad offering of books, maps, and atlases.
You can never have too many hats and shirts.  What better way to share your pride in the sport of treasure hunting than to let people know about it.  Plus, with our branded Recovery Team shirt you will look super official as you are out playing in the dirt.
What better way to share your pride in the sport of treasure hunting than to let people know about it.  Plus, with our branded Recovery Team shirt you will look super official as you are out playing in the dirt.  High Plains Prospectors Logo on front, the words "Recovery Team" on the back and of course a flag from the Good Old USA on the sleeve. This District Brand shirt is awesome.  Made of high quality, breathable, and lightweight blend.  50% Polyester, 25% Cotton, 25% Rayon They are available in Blue, Black, and Green.  Get yours while they last!
There are a variety of branded or unbranded metal detecting carry bags and pouches.  A new pouch is always a welcomed gift for a treasure hunter and a carry bag is a great way to protect a metal detector investment.
The High Plains padded carry bag measures 54" long and fits most fully assembled straight shaft metal detectors easily.  This bag has a roomy 15" side zipper compartment to hold your various accessories such as diggers, headphones, batteries, and other necessities, keeping them separate from your detector.  It features a sturdy canvas exterior with padded interior helps protect your detector as you travel to and from hunts.  This high quality bag allows you to keep your detector protected at all times without disassembling. The full length 2-way zipper gives you easy access to load or unload your metal detector, zipping it from either side.  Attached strap makes bag easy to carry.  Dimensions approx: Length: 54"; width: 17"; depth:  6"
There are thousands of different types of digging and recovery tools available for metal detecting.  Shovels, picks, sand scoops, trowels are just a few to name.  Unlike what you might buy from one of the big box retail stores, metal detecting shovels are made to take tremendous wear and tear.  
A good one is the one shown above.  The NX-6 36 Inch shovel is made from tempered steel and heat treated for durability. The 36" shovel is powder coated black and the 9" blade has teeth on each side to cut roots. The handle is made to fit a standard 5.5" shovel holster. Also includes a built-in, double-sided bottle opener!  his beast is100% Made in the Good Old USA - Kansas to be exact.
Last but certainly not least.  If the person you know who metal detects does not currently use a pinpointer while metal detecting, GET THEM ONE!  They will thank you a thousand times over.  This is a vital piece of equipment for quick recovery of buried items.  And, if they already have one, a back up is never a bad idea!